Asbestos Testing 1 hrs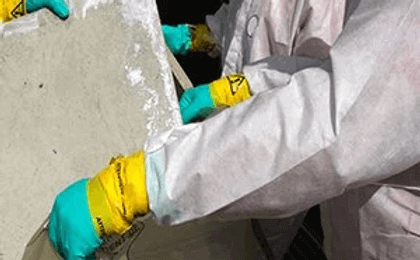 As a mineral fiber Asbestos is commonly found in steam pipe covers, roof, divider and floor and when inhaled it can cause serious health issues of stomach and lungs. There are a few sorts of asbestos filaments, which are all heat proof and not effortlessly obliterated. They are likewise long, slim and adaptable, with the goal that they can even be woven into fabric.
We at Diamond Perfection provide Asbestos Testing and are prepared to appropriately look for asbestos inside your property. Have a reviewer gone to your home or property, take an example and have it tried to guarantee it is protected.
Asbestos Testing Expert in Uttah & Nearby Areas
Asbestos is a commonly used construction material. But it becomes dangerous when the asbestos particle is airborne. Inhaling asbestos is risky and might lead to many diseases like lung cancer and mesothelioma.
At Diamond Perfection we offer a full spectrum of services from asbestos testing to its removal. We take a cautious approach to remove contaminants in your home and make it a safer place to live. Contact us now at (801) 907-1612 and our licensed professionals are here to serve your every asbestos-related need.
Certified Inspectors for Asbestos Testing in Your Local Area
Asbestos removal is a very delicate process, and it must be done by certified and experienced professionals. Hiring a professional team to remove the asbestos in your building ensures that your property will be free of asbestos and that will ensure health and safety during and after the asbestos removal process.
Our team of inspectors is certified and has years of experience under their belt. Having served many clients over the years, we are aware of how to provide the best service to our clients. We take pride in saying that we are the best asbestos inspection company in the entire Uttah region.
FAQ
You can't tell whether a material contains asbestos or not by simply looking at it but if you are suffering from diseases like shortness of breath, dry cough, and chest pain, it is indicating that you were exposed to asbestos.
In homes, asbestos is generally found in steam pipes, boilers, door gaskets, and roofs, etc.
Popcorn, acoustic, cottage cheese, and stucco ceilings are usually more prone to asbestos. You can't detect if your ceiling is asbestos by just looking at it. If the ceiling is very old then it might have asbestos in it. However, consulting a professional home inspector is the best choice to find asbestos in your ceiling.
Book Online
Asbestos Testing 1 hrs
Location & Contact Details
(801) 907-1612
diamondperfectionhpi@gmail.com
Location: Client's Place